Modern Italy's Oldest Winery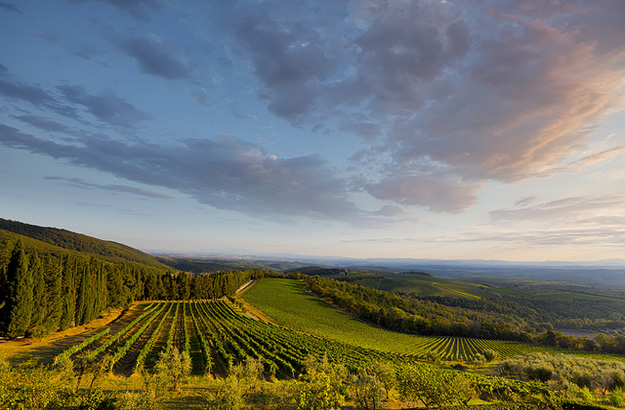 "Katharina, this Casalferro wine is absolutely divine! whispered to me one of my neighbours at table.
– Divine indeed, I replied, and coming from the oldest winery in Italy, believe it or not.
– Is that so?"
The Ricasoli family first moved into the Castello di Brolio, in the heart and hills of the Chianti region, in 1141. About 150 years ago, Baron Bettino Ricasoli, after a lifelong research on Tuscan vines, finally achieved his dream of making a wine that could reach the quality of French wines. The Chianti Classico was born.
Today, Francesco Ricasoli, the 32nd baron of the lineage, has taken over the winery. Like his many ancestors, he sees to it that the Castello di Brolio wines remain among the best Italy has to offer. The winery has its own laboratory right on the premises; and one of Italy's biggest research projects on soil structure and its effects on different vine varieties has been taking place there for years.
I had the chance to work at the Brolio winery myself during my first years in Italy, and to forge a loyal friendship with Francesco Ricasoli. I learned a lot about wines, wine tasting and Italian cuisine there.
I strongly recommend to you the "Gourmet Tour" and the "Cooking Demonstrations" organized at the Castello di Brolio. The tour is a great opportunity to taste the best Chianti Classico wines accompanied by specially selected dishes. It begins at the wine shop, then takes you to the Brolio castle, the beautiful gardens, the family's chapel, the private museum and the spacious cellars. Its main highlight: the unique food and wine dinner, with courses created by Castello di Brolio's chef, and with the estate's top wines selected according to "pairing concepts" which will be explained to you. Your guide will also share information about the Italian food culture, including an introduction to the world of extra-virgin olive oil.
The Cooking Demonstrations are also very exciting. Come and spend a wonderful afternoon with chef Franco Sangiacomo to learn the secrets of Tuscan cuisine. Franco will show you how to prepare a few authentic dishes with an emphasis on fresh and seasonal ingredients. And after this tutorial, you will be able to enjoy a guided visit of the estate followed by a four-course meal where you will sample some of the dishes prepared during the demonstration.
To make a reservation or obtain more information on either event, please contact Katja under katja@trustandtravel.com. Katja will also be pleased to answer any questions you might have about the best wine, food and cultural tours in Tuscany.
Hoping to see you soon at the Castello di Brolio!