A Little Palace of Art in Venice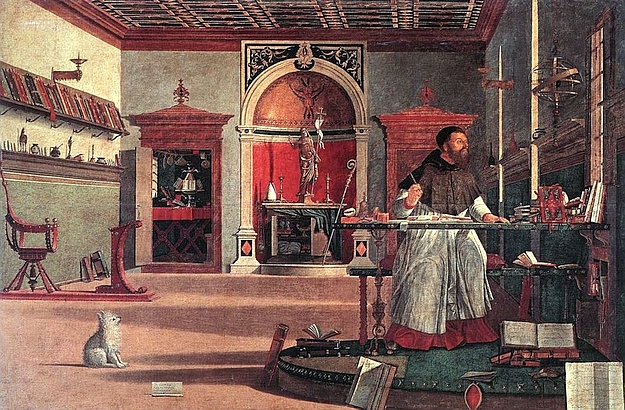 The luxury of loving Italy… These are the very last words of Italian Hours, a collection of essays which the great Henry James wrote about the bel paese more than a century ago, and which I have recently read with great interest.
I had just paid a new visit to the Scuola di San Giorgio degli Schiavoni, a beautifully frescoed church in Venice, when, the next day, I came across these lines in Henry James' book: "The place is small and incommodious, the pictures are out of sight and ill-lighted, the custodian is rapacious, the visitors are mutually intolerable, but the shabby little chapel is a palace of art."
On reading this, I smiled. I have certainly encountered, over the years, my own share of greedy and grumpy custodians in Italy. But, thankfully, things have changed for the better since Henry James' time. True, the lighting at San Giorgio degli Schiavoni is still not ideal; but extensive restoration has been carried out on most of the chapel's works of art; and on each of my visits there, I was able to enjoy some respite from the crowds swarming in other parts of the city, such as the nearby Piazza San Marco.
The church is home to a fresco cycle painted by Vittorio Carpaccio, a Venetian artist I knew little about before starting the refurbishing of our Palazzo Ca'nova. Carpaccio created these frescoes in the early 1500s, depicting scenes of the lives of Saint Gerome, Saint George and Saint Tryphon, the heavenly protectors of Dalmatia – the region which the members of the Scuola came from. In the Venetian dialect, scuola used to mean "confraternity", and Schiavoni was in Old Italian the term for "Slavs", the immigrant community from Dalmatia on the other side of the Adriatic Sea.
Remember our blog post about Venice's bacari? After your visit to the church, walk alongside the canal to the small square, where you'll find a nice bacaro. There, you'll smack your lips over un' ombra e do' cichetti, per favore, and keep a watchful eye on the locals attending to their affairs and the gondolas gliding past unhurriedly…
For more information about the intriguing history of the Serenissima's scuole, and the art works which they house, please visit the dedicated page on the Churches of Venice website.
Stay tuned!