TESTING WATERS IN TUSCANY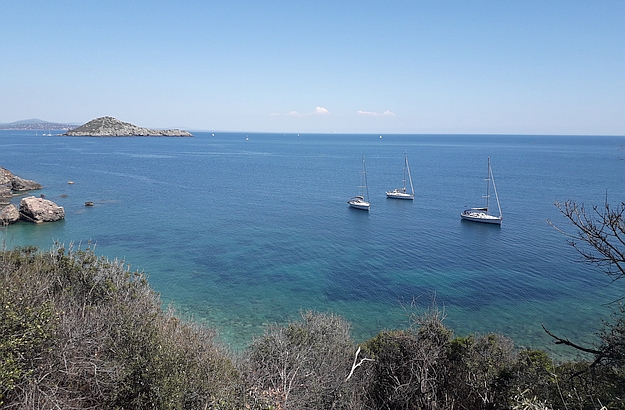 Ah, springtime!… Longer days, blooming trees, twirling swallows and, above all, – I may have mentioned this to you before – my very first swim of the year in the Mediterranean!
This inaugural sea dip usually takes place in April somewhere on the Tuscan coast. This year, though, because of a persistent cold North wind, it looked as if this ritual might have to be postponed to some later date. But having finally decided against any rain check, my family and I tried our luck at one of the South-facing bays on the Monte Argentario peninsula, and found nothing else there than a little patch of paradise…
Protected from the winds by the mountain which rose behind us, we spent the whole afternoon at the Spiaggia Acqua Dolce, the "Mild Water Beach". Everything there was at the perfect temperature: the air, the sea, our hearts…
Should you like to visit one of the Monte Argentario bays, make sure to wear comfortable shoes, as you'll have to walk 10 to 20 minutes to get down to the beach – a little journey at the end of which you'll be rewarded with a breathtaking view over the Mediterranean and a magnificent bouquet of floral scents.
To get to my favourite Spiaggia Acqua Dolce, follow the indications for the Il Pellicano hotel, and then park in the olive grove next to it. I also recommend the Spiaggia Lunga, which is a bit closer to Porto Ercole, and the access to which is easy if you park your car on the road near Forte Stella. In any case, don't forget to bring a hat or beach umbrella for shade, as well as some water, pizza and focaccia – which you'll have stocked up on beforehand in Porto Ercole.
Lastly, if you're travelling during the high season (from mid-June to early September), plan your beach jaunt on a weekday if you can. The small bays get quite crowded on weekends, and the parking spots, a lot more difficult to find.
Have a good springtime swim!