Sartorial Elegance in Montalcino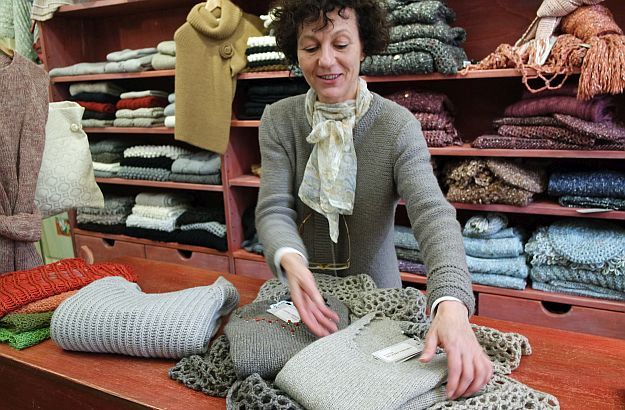 "You have created most of these lovely dresses and jackets, Renata?
– Yes, Katharina, my sister and I have designed them. The bags and scarves too.
– Wow! Talent obviously runs in the family…
– I'm afraid so.
I was looking around, lost in wonder in the middle of this artisan boutique I had just discovered in the heart of Montalcino. It used to be a flower shop until quite recently, so this is why I had never noticed it before. As a side note, do you remember the Sartoria Trabalza, this old tailor shop located in the small Umbrian town of Bevagna, and which I told you about in a previous article?
Lying right on Montalcino's beautiful piazza, the Sartoria Principe is run by two Italian sisters, Renata and Gabriella Principe, whom I have had the pleasure to meet and chat with. Their mother, an accomplished dressmaker, has passed on to these two charming women her designing and sewing skills.
When Renata found out that the old flower shop on the town piazza was about to close down, she jumped at the opportunity. For some time she had been dreaming of having her own cozy boutique where she would be able to sell her own creations: silk blouses, cashmere jackets, colourful scarves, linen bags and jumpers…
The high quality textiles Renata and Gabriella use for their couture lines – my beloved Busatti fabrics, for instance, – are all sourced from Italy's best manufacturers. These materials are then turned, with external help, into the wide range of garments and accessories you can find in the boutique. Indeed, the two Principe sisters have surrounded themselves with a team of about twelve local, highly experienced seamstresses, weavers, button makers, crochet artisans. There is even an artist, Gabriella told me, who is kept busy with the delicate task of hand painting some of the linen dresses – a technique which I had never seen before!
"I'm torn between the blue blouse and the white blouse… What do you think, Renata?
– How about indulging yourself with the two, Katharina…
– Right, drive me to crime!"

Save
Save