Paolo, the Tuscan Fisherman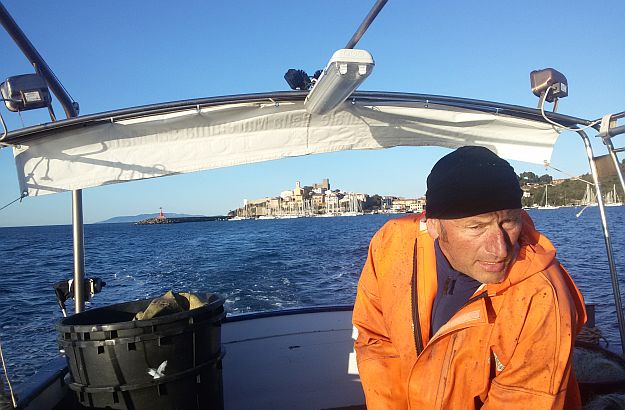 Do you remember Talamone, this little harbour town lying on the Southern coast of Tuscany? I told you about it in a previous blog post. Well, true, this was almost two years ago, so I won't blame you if you haven't kept in mind this piece of information…
Anyway, my daughter, husband and I have made it a family tradition to drive to Talamone whenever we are staying in the Maremma in the summer months. We usually go there in the late afternoon, primarily to jump into the Mediterranean sea from the high rocks of Women's Bay – my daughter and I just can't get enough of these aerobatic stunts, I confess – and to enjoy a refreshing aperitivo at the beachside bar, where they serve superlative mojitos.
Recently, during one of these Talamone jaunts of ours, we became acquainted with Paolo the Fisherman, after stumbling upon his fishing boat, docked in the town's little harbour within a stone's throw of the Marina di Alberese beach. While trying to disentangle his large fishing nets, Paolo, a native of Talamone, was jocundly conversing with passers-by about his craft, his past life and his strong environmental commitment. We immediately hit it off.
Paolo spent most of his youth on fishing boats, at a time – in the seventies and eighties – when dynamite was still used to capture the living resources of the sea, and when trawlers used to spread out their nets illegally along the protected coastline. As a witness to the considerable damage those bad practices inflicted on marine life, Paolo became an outspoken opponent to pernicious and destructive fishing, and began to actively campaign against it.
From October to May, you can accompany Paolo on one of his fishing trips along the Tuscan shores. In the summer months, his boat can also be chartered to visit the magnificent bays of the Maremma Regional Park and have a swim in the crystal-clear Mediterranean waters. During extended tours, Paolo prepares lunch on board from his fontanday's catch! I experienced this once and just loved it!
By the way, Paolo only speaks Italian, but you won't feel the language barrier at all: he is so expressive, amicable, in love with his craft and stamping ground, that you will most probably understand everything he says. Besides, you will find on his boat a number of newspaper articles which report in great detail, in both English and German, about what he has been doing to save this beautiful part of the Tuscan littoral.
Paolo also happens to be a certified nature guide. The pristine fauna and flora of the Maremma have no secrets for him!
The prospect of a tour in the company of Paolo the Fisherman might eventually interest you? Please do not hesitate to contact our friendly Katja for further information.