My Tailor is… in Umbria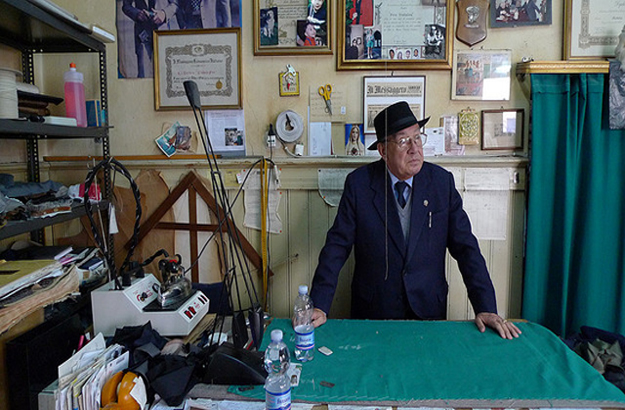 "I think it's high time I bought a new suit, Katharina! Would you accompany me to my tailor's boutique to help me choose? I trust your taste."
When my friend told me where his tailor's shop was, – in Bevagna, a little Umbrian town in the middle of what I thought was "nowhere", quite far from where we were staying near Siena, – I felt like shrinking away from his proposal.
"Why do we have to drive all the way down to this town to refresh your wardrobe, Francesco? Tuscany is home to so many good fashion labels !
–        Because I like the tailor there, my friend replied with a smile. He's the best. And you'll see, Katharina, Bevagna has the most beautiful town piazza in the world!"
I finally gave in – mostly out of curiosity, I must admit, – and in the heart of winter we set out for Bevagna, a town of less than 3000 souls, originally an Oscan-Etruscan settlement, lying some 25km south-east of Perugia, the capital of Umbria. On our way, we drove along the scenic Lake Trasimeno, then decided to skip Perugia and head straight to Bevagna.
The moment I got out of the car, in Bevagna, I was enthralled by what was lying before my eyes – and understood only too well why my friend absolutely wanted to come all the way down here to do his vesture shopping. The town square was indeed one of the most beautiful I had ever seen in Italy, and looking onto it sat a tiny tailor shop called Sartoria Trabalza, like the ones every little town in the country used to have before globalization, in bygone days.
While my friend was having his measures taken by his favourite tailor in the little boutique, I explored the surroundings by myself and came across another small shop, Tasselli Cashmere, which happened to sell a high-quality "Made in Bevagna" range of garments. I could not resist the temptation to buy a cozy jumper – which I still wear today.
After our sartorial shopping, my friend and I were hungry. We had a few options and finally went for Antiche Sere, a tiny restaurant on the Garibaldi Piazza. But if you're a meat lover, I would also recommend Scottadito, which belongs to Marcelleria Tagliavento, one of the best butchers in the area.
Also, keep in mind that Bevagna and the province of Umbria are home to many festivals and celebrations. To find out what's going on while you're in the area, I suggest you check this out: Umbria on The Blog, kept in its English version by Rebecca Winke, an American who knows Italy's central region inside out.
I don't know whether my friend's tailor is rich, but he's good, this I can tell!