One of Siena's Secret Gems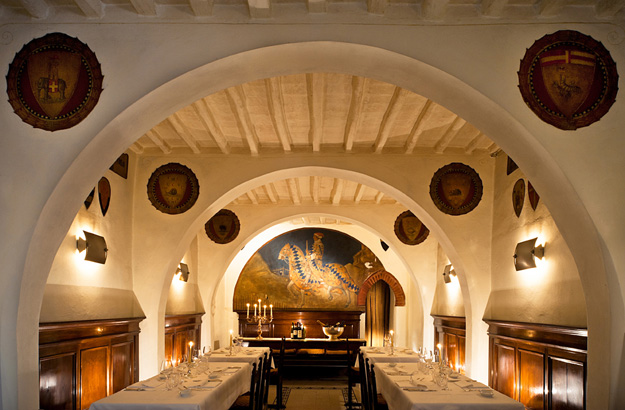 Off the beaten track… You want to be surprised and discover little gems when you travel? My one piece of advice: go off the beaten track. Take the back roads and back alleys. Venture off the tourist routes. Nowhere is this more evident than in Siena, one of Italy's most visited cities.
During summer, tourists flock into the historic center of Siena – which, by the way, has been declared by UNESCO a "World Heritage Site". They flock and… stay there! That is within the roughly triangular space formed by the Piazza del Campo, the Duomo cathedral and the Banchi di Sopra shopping avenue.
Yet, there is a lot more to see and discover in Siena. Just turn left or right into one the small alleyways, keep walking, and chances are you will end up in one of the town's vibrant neighbourhoods, mingling with the locals  – and perhaps a few stray or adventurous tourists.
That's how we, my family and I, came across a restaurant called  I Tre Cristi. We had just gone around the Santa Maria di Provenzano church – which the July Palio horse race is dedicated to, – when we noticed a stone wall plaque indicating the way to the Trattoria da Tullio. Hungry as we were, we decided to follow it.
A little further down the road, though, we saw another plaque but this time marked with this name: I Tre Cristi  – the arrow pointing in the same direction. We scratched our head, wondering what this was all about. We decided to continue and take a few extra corners until we landed in front of Siena's oldest restaurant.
Founded in 1830 as I Tre Cristi – because of a neighbourhood shrine depicting Christ and the two thieves on the cross, – the restaurant was later renamed Trattoria da Tullio until the current owner decided to go back to the original appellation.
With its beautifully frescoed rooms and its exquisite (and relatively high-priced) menu, I Tre Cristi has become over the years a meeting place for the well-off local clientele. But it has always kept an open door for accidental guests like us. The owner even came to our table during our meal to chat with us a little and let drop in the conversation a few historical notes, which we greatly appreciated.
The restaurant is located at Vicolo di Provenzano, 1/7, Siena, and is open every day of the week except on Sunday. Here is their telephone number: +39 0577 280608, and the link to their website: www.trecristi.com.
Buon appetito!