Italians Like Their Pint Too…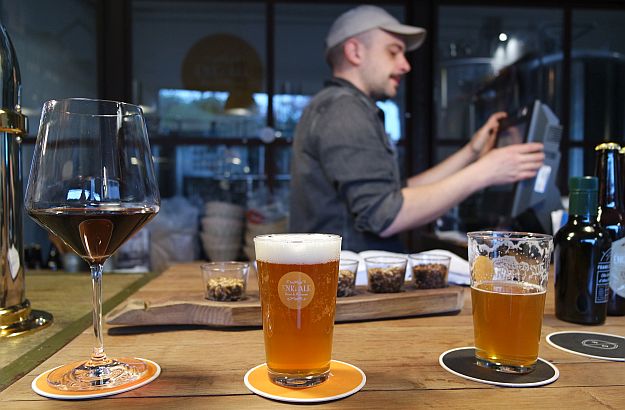 Martin Luther, the famous priest and reforming theologian (1483-1546), once declared: "Beer is made by men, wine by God."
Well, this is a nice pronouncement. But I think I might have tasted, on several occasions over the past few years, divine wines that had been made by mortals, as well as excellent beers which seemed to be coming straight from the heavens – and some of those beers were Italian!
The bel paese, well-known for its winemaking skills, produces more and more of the different types of beer Italians consume. Small artisan breweries have been popping up throughout the country over the last few years, often operating an associated pub or restaurant; and most of them take pride in using local ingredients.
One of my favourite artisan brewery has recently been launched on the Tuscan coast, in the Maremma, by two Italian friends, Frank and Serafico, who also happen to produce very good wines – such as the Sangiovese. In order to conduct their venture, they have acquired a farm estate located in the vicinity of Marina di Alberese, in the heart of the Uccellina National Park.
When returning from a long hot day at the beach, I must admit that I enjoy a good artisan beer as much as a glass of wine. Last summer, Frank and Serafico opened their Farm Pub, a great place to have a Tuscan snack, lunch or dinner while tasting the two friends' locally produced wines and beers. Homemade bread, focacce, jams, olive oil and vegetables grown in the adjacent "English gardens" all appear on the menu of this nicely designed venue.
The last time we stopped at the Farm Pub for a beer – friends of ours had come along, – we stayed on for the whole evening, indulging ourselves with the deep fried artichokes, the meat or vegetarian burgers, the tartars and tempuras. The kids were on cloud nine, and all the more so when we came to the desserts, especially the Birramisu, a variation on the famous tiramisu in which the coffee is replaced by beer. Very yummy!
Here is the link to Frank & Serafico's website. For dinner on weekends, I suggest you make a reservation.
Beer cheers!