The Call of the Sirens on the Amalfi Coast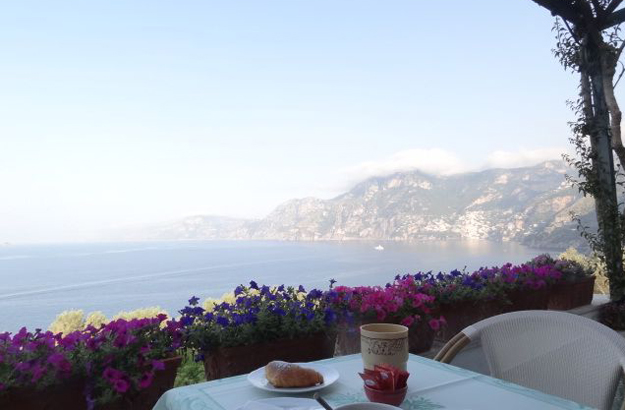 Good heavens, where have I landed?… I must be dreaming.
I couldn't believe my luck. The day before, I had been leafing through a guidebook, looking for a hotel where I could stay on the Amalfi Coast. I found one on page 75, with a reasonable rate, located in the little town of Praiano about halfway between Amalfi and Positano. No pictures, just a name, an address, a short description. I picked up my phone, called and booked.
By the way, the Amalfi Coast was listed as a UNESCO World Heritage site in 1997. Its landscapes and cultural riches are absolutely breathtaking. Just a suggestion for one of your future escapes…
Back to my little story… I arrived in Praiano the next day at around 5 o'clock in the afternoon. Parking space being a major (but not deterring) issue on the Amalfi Coast, I left my car just outside the village and leisurely headed towards the hotel.
I first crossed the square lying in front of Praiano's beautiful church, then walked down a lane and passed alongside a children's playground which has been astutely reclaimed from the steep rocks cascading to the Mediterranean Sea down below. A few minutes later, I was in front of the gate of the hotel, a simple, unostentatious but very well-kept building.
After going through a flowered courtyard which gave off an exhilirating scent of star jasmine (also known as "false jasmine"), I was welcomed by the lady of the house in the warmest of ways, as if we had known each other for years. She took me to my room: a spacious one, as clean as a whistle, with Italian tiles on the floor, pleasant blue furniture – bed, cupboard, desk, curtains, you name it – and, icing on the cake, French windows opening onto a private terrace which looked onto the sea and the magnificent Gulf of Salerno. A kaleidoscope of orchards, vineyards, flower gardens and patches of deep-blue sky was now unfolding before my bedazzled eyes.
Paradise.
Half an hour later, I was enjoying the same lovely view on the hotel's cozy terrace, comfortably seated at one of the 5 or 6 tables there. The lady's husband, a very nice man too, brought me a much appreciated and highly refreshing Spritz, along with 4 bruschette he had prepared with grilled bread topped with tomatoes, olive oil and fresh basil which he had picked before my eyes a few minutes earlier.
Then, as the day was ending, I decided to walk down the 350 steps that took me from the hotel to the seaside at the foot of a steep cliff. I dipped my feet into the warm water; there was nobody around me. Needless to say, I slept like a baby that night, the French windows wide open, and silence, just complete silence all around me.
The name of this little corner of paradise: Le Sirene. Here's the link to their website: www.lesirene.com. The rates are between 90 and 110 € per night, breakfast included. I also recommend this lovely restaurant in Praiano: Il Rifugio. The Spaghetti alle vongole I had there were just perfect!