The One and Only Umbria Jazz Festival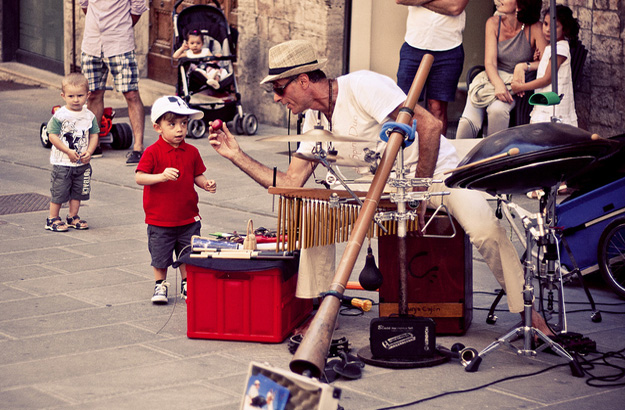 It was in July 2000, I remember, in the late afternoon. I was sitting in a Tuscan bar with a good friend of mine. I was leafing through a local newspaper when I came upon a heading which took me a few seconds to read and register, due to the lingering summer heat: "John Lewis at Umbria Jazz tonight".
"What did you just say? my friend asked. The great John Lewis, the pianist, at the Umbria Jazz Festival tonight?
–        Yes.
–        At what time?
–        8:30.
–        Exactly two and a half hours from now! It takes about two hours to get to Perugia from here. We have to go, Katharina!
–        They say in the article that he has just turned 80 years old…
–        Well, all the more reason to go! He might never come back to Europe for a concert again!"
My friend called the ticket office of the Jazz Festival right away. "You're lucky, said the woman at the other end of the line: a couple has just phoned to cancel their reservation." Wow!
Needless to say, we quickly paid for our drinks, leaped into our car and drove flat out to Perugia, where we arrived a little more than two hours later – in time for what turned out to be an unforgettable John Lewis solo performance. Sadly, the pianist, composer and musical director of the Modern Jazz Quartet died less than a year after what must have been one of his last concerts.
For jazz lovers and aficionados, the annual Umbria Jazz Festival – 40 years old this year – is the most important one in Italy. As its name suggests, it focuses on jazz and blues, but also includes other genres (pop, latino-american) and always offers some free events.
This year, it will take place from July 11 to 20. You can download the programme here: www.umbriajazz.com. To give you a foretaste of it… on July 14, the Italian jazz pianist Stefano Bollani will be playing a duet with Hamilton de Holanda, a Brazilian bandolinist… the great Herbie Hancock will be performing with legendary saxophonist Wayne Shorter on July 16… and on July 18, the outstanding American vocalist Natalie Cole will take you to seventh heaven…
See you there?