Renting a villa in Umbria
Trust&Travel offers rentals on two stunning historical estates in Umbria. One lies near Perugia, the other close to Gubbio. They have been selected for their stunning beauty, their convenient location, the quality of their restoration and the high level of service they offer. You can choose between a charming agriturismo cottage, a villa with private pool, a fully staffed luxury mansion and a stunning medieval castle for large family reunions.
Click onto the estates below to find out more about the villas available for rent, the location and the surroundings and the level of service.
Estates: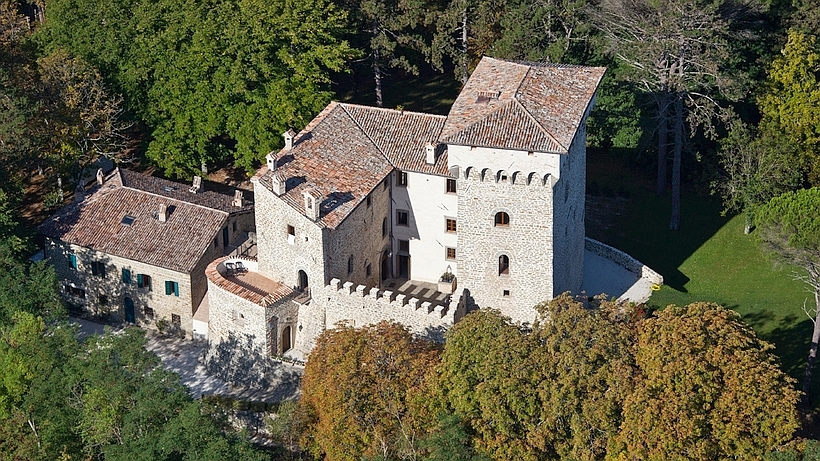 Magrano
The Magrano luxury castle sleeping up to 35 guests lies within a broad bend of the river Chiascio near the medieval city of Gubbio in Umbria. This region is justifiably described as the "green heart of Italy."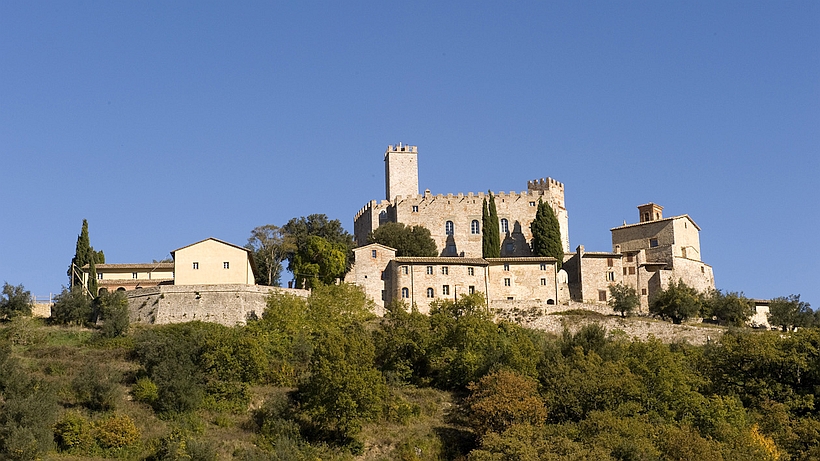 Tenuta di Murlo
3 luxury villas and 4 stylish agriturismo rentals are nestled into the Tenuta di Murlo estate, one of Italy's most exclusive private estates, offering the unique opportunity of living in the heart of a natural reserve. The estate of the castle of Murlo dominates the suggestive valley of Monte Tezio and it is located 20 km from Perugia and 15 km from Lake Trasimeno.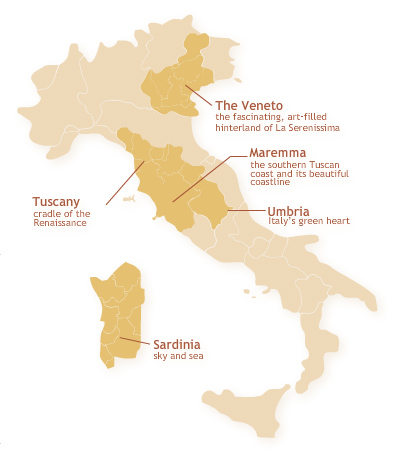 Umbria,
Italy's Heartland
Umbria warms the heart. Here you'll find a traditional, rural lifestyle cohabitating with a buzzing international university and world-renowned festivals. Millennia-aged ruins await contemplative history-seekers, while postcard-perfect medieval villages cascade down the hillsides and beckon to be explored. Placid country roads wend through rolling hills and pass fields of smiling sunflowers, while snow-capped mountains loom to the east. Verdant Umbria is known as the green heart of Italy, and is found in the heart of the country at its geographic center. Umbria is also Italy's spiritual center- famous as the birthplace of two of the world's most famous saints, St. Francis and St. Benedict. Whether you prefer to hike a hidden trail, walk in the footsteps of the saints, or stroll among famed artworks, Umbria's charms will delight your senses while its hospitality will warm your heart.
GEOGRAPHICAL LANDMARKS
Umbria is located in the very center of the peninsula; a plaque near Narni marks it as the country's geographic center. Rolling hills give way to the Apennine mountain range, with 2,476-metre high Mount Vettore forming the eastern boundary with Le Marche. The famed Tiber River flows along the southern border with Lazio. One of Italy's largest lakes, Lago di Trasimeno, skirts the Tuscany border. Umbria is divided into two provinces: Terni and Perugia.
A BRIEF HISTORY OF UMBRIA
The history of Umbria stretches back three millennia. Umbria is named for the ancient inhabitants of the area, the Umbri tribe. They were contemporaries of the Etruscans, who invaded the region, and were later conquered by the Roman Empire. The renowned battle of Hannibal over the Romans during the Punic Wars took place at Lake Trasimeno.
Rome left a decisive mark on Umbria, endowing it with roads and public works, the remains of which are sprinkled liberally around the region. The fall of Rome brought various invaders, but the region was fairly stable under the Duchy of Spoleto from 6th to the 13th centuries.
It was the Middle Ages that left a lasting impression on the local architecture and culture, giving it a rich heritage of Gothic and Medieval churches and public buildings, and giving birth to the spiritual teachings of St. Francis, which made Umbria a popular pilgrimage spot.
LANDSCAPES, NATURE, WALKS
Nature lovers will enjoy Umbria's unspoiled mountains and sparkling rivers. Country lanes that pass olive groves and flower-carpeted fields make nice walking paths all over the region.
In the footsteps of saints:
In and near Assisi you can follow the footsteps of Italy's most beloved saint, St. Francis. A country trail leads from town to the Eremo delle Carceri, which was one of Francis's favorite retreats. Norcia was the birthplace of St. Benedict, where you'll find a sober basilica and a charming town to explore. The surrounding Sibilline Mountains offer alpine trails.
For water enthusiasts:
Umbria doesn't have a coastline, but it is not lacking in inland water. Lake Trasimeno is one of Italy's largest lakes, perfect for water skiing and boating. It also boasts three islands that can be reached by ferry. Sandy beaches allow for sunbathing and a dip in the fresh water, while fishermen can cast their lines for a little sport. Rafting and canoeing can be enjoyed on the Nera River near Norcia. The stunning Marmore Falls on the Velino River near Terni is one of Europe's highest waterfalls.
Going underground in Orvieto:
The sheer bluff of volcanic tuff on which pretty Orvieto perches is riddled with airy caves and hidden passageways that can be explored with a guide. The Pozzo di San Patrizio (well of St. Patrick) is an underground architectural marvel, plunging down 175 feet into the ground. The circular well has a unique double-spiral staircase that is not the weak-kneed, with 496 steps. At the foot of the bluff you'll find an Etruscan necropolis containing more than 100 chamber tombs set along a street pattern.
CULTURE, ARCHITECTURE, ART IN UMBRIA
• In Orvieto, don't miss the fanciful Gothic Duomo, which soars seven stories high. Inside are magnificently vibrant and graphic frescoes of the Apocalypse by Luca Signorelli.
• In Assisi, you'll want to visit the famous basilica dedicated to Italy's patron saint, Francis. Frescoes by Giotto vividly tell the story of St. Francis's life. In the Piazza del Comune you'll find a church inserted into the remains of the ancient Temple of Minerva. Above town stands the Rocca Maggiore, a fortress that protected citizens during attacks. For a dose of nature and spiritual contemplation, walk to the hermitage, the Eremo dell Carceri.
• In Spoleto, visit the Roman theater and the archeological museum for a view of ancient Umbria. Go see the pre-Renaissance frescoes by Fra Lippo Lippi and Pinturicchio. The church of San Salvatore is one of Italy's oldest and is set within the remains of an ancient Roman temple.
• In Deruta, stroll the color-splashed streets where Italy's most famous hand-made ceramics are produced.
• Visit charming Citta' di Castello, which packs a lot into such a small town, with palaces, churches, towers, and -of course- a castle, all sitting pretty and begging to be explored.
• In Todi you'll find all the main sights conveniently concentrated onto the Gothic Piazza del Popolo, which is itself set over top of an ancient Roman cistern system. Below town is the striking Renaissance church of Santa Maria della Consolazione.
• In Perugia, be sure to see the frescoes by local artist Pietro Perugino in the Galleria Nazionale dell'Umbria and in the town hall's Sala del Cambio. Step back to ancient times at the Etruscan arch and Etruscan well. Enjoy the lively atmosphere at the large fountain, the Fontana Maggiore. Sample the chocolates named for the city.
• Gubbio is so perfect, it looks like a medieval movie set. Be sure to visit the Palazzo Ducale, and the ancient Roman amphitheatre, which is still in use for performances.
Festivals and Concerts
• Perugia plays host to international visitors with its acclaimed annual Umbria Jazz Festival, held each July. A wildly popular chocolate festival every October pays homage to the city's sweet side.
• Spoleto offers up culture, dramatic performances and musical concerts during the Festival dei Due Mondi.
• Gubbio's Roman theatre is a dramatic setting for summertime, open-air performances.
UMBRIAN GASTRONOMY
Wines
Orvieto Classico: The most famous wine of Umbria comes from its most dramatic town, Orvieto, where the volcanic soil helps create an interesting golden-hued, complex white wine that you'll definitely want to taste. Vines have been cultivated in this area since the Etruscans; nowadays the wine has DOC status.
Sagrantino : A prized red from Umbria is the Sagrantino di Montefalco, a high-level DOCG wine produced by a limited number of wineries. Made from 100% sagrantino grapes, its deep violet hue and plum flavors will delight you.
Gastronomic Specialties
Umbrian cooking is hearty, rich and authentic. The region is famed for its vibrant olive oil, as well as for its cured meats, which are produced in the charming town of Norcia. In fact, purveyors of salami and prosciutto in other regions are often referred to as Norcineria. Truffles and mushrooms grow well in Umbria's woods, and the flavorful funghi are used in many delectable dishes. Lentils from Castelluccio are prized throughout Italy. Game meat, such as wild boar, rabbit and guinea hen, is popular. And don't miss out on the chance to sample torta al testo, a flavorful focaccia spiced with flecks of cured meats. Perugia is renowned for its chocolate.
SHOPPING IN UMBRIA
In Perugia, you'll find loads of shops selling the city's sweet obsession, Perugina chocolate.
A must-stop for shoppers is Deruta, where fanciful, beautiful ceramics have been produced for centuries. You can have the workshops pack and ship the delicate dishware to your home.
The prized truffles that Umbria is famous for can be found in shops all over Norcia, where they also sell truffle-scented pasta and shrink-wrapped packages of their famous salamis and prosciutto, too.
Street markets are held in almost every town weekly. You'll encounter lively atmosphere where you can find everything from sweets to sweaters, from bread to bedding, and much more.
Shop for luxurious cashmere in a gorgeous setting in the beautiful borgo of Solomeo, where you can see the skilled workers at their tasks, and there is an outlet store, too.
In our Blog Katharina's Italy you can find first hand information and stories about Umbria.