Palazzo Bo in Padua – designed by Giò Ponti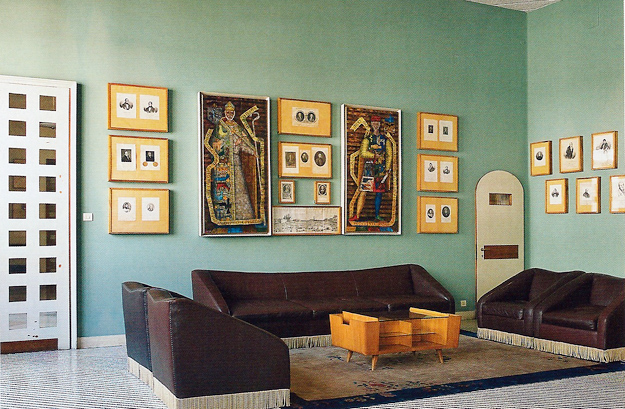 This week's topic is once again related to a "rare" item I purchased for a song many years ago. Not at a flea market this time, but at a charity sale. A set of six modernist dining room chairs which I bought for the equivalent of 15 euros – the whole set! I was absolutely delighted.
A few weeks later, I was walking down a trendy avenue in Milan when my eyes came upon an interesting object displayed in the window of an antique shop: a sofa table with curves and features very similar to the ones of the six chairs I had bought. The colour of the wood was about the same, the legs had the same tapered shape. The shop owner told me that this sofa table had been designed by the famous Milanese architect Giò Ponti.
Giò Ponti! Wow!… Well, I still use my six dining room chairs today, and would love to tell you that they are authentic Giò Ponti chairs. But I can't tell you that, unfortunately, because I have never been able to verify this. Much to my chagrin.
What I know for sure, though, is that Giò Ponti designed in the mid 30s the outstanding interiors of the Rectorate suite of the Palazzo del Bo, the University of Padua's headquarters and ceremonial centre. Do you remember the Caffè Pedrocchi  I told you about in an earlier post? The Palazzo del Bo stands within a stone's throw of it.
The Rectorate suite is a very good example of successfully integrated 20th century design. Giò Ponti designed most of the furniture, fittings, fixtures and even some of the motifs which you will see in the suite's rooms. He also picked himself the craftsmen who made or manufactured these different elements. For instance, Venetian artisans were brought in to lay the terrazzo floor of the professors' reading room, with its beautiful diagonal stripe pattern. Ponti also coordinated the series of frescoes which Piero Fornasetti – creator of the venerated Milanese design brand – painted in one of the halls.
A visit to the Palazzo del Bo is a must. I strongly recommend it to you. Guided tours are organised daily, and the single adult ticket is only 5 euros. You can find more information right here : http://www.unipd.it/en/node/211 .
Alla settimana prossima!