The Keys to Enjoying Siena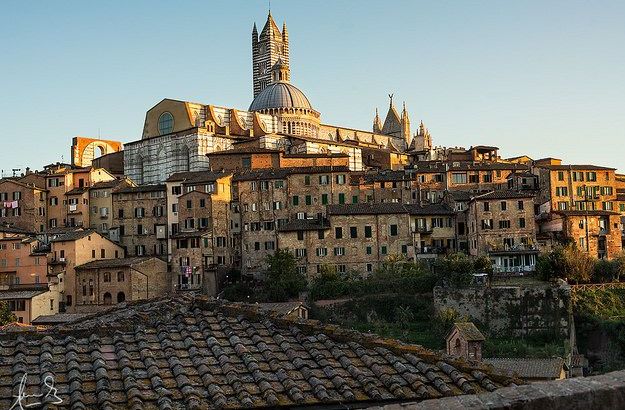 Last week, I had a glass of wine with friends who had spent their August holidays in Tuscany. Unsurprisingly, a great part of our conversation centered on their Italian respite:
"We had the most wonderful time, Katharina, really. The view we had from the villa, the blooming lavender, the garden, the wine, the food… We enjoyed everything and every single moment of it. Except…"
Except?… I was hanging on their lips, eager to find out what the "exception" was.
"…We were disappointed with Siena."
Oh, disappointed with Siena? How could that be? No travel itinerary I recommend to clients, friends or relatives vacationing in Tuscany would be complete without a visit to the "Gothic City". Siena is a must and nothing less than an enchantment!
After asking my friends a few questions focusing on their "disappointment", I realized what had gone wrong.
They arrived in Siena at 11 o'clock in the morning, which is about the time most tour groups make it into town. The sun was scorching that day. And, icing on the cake, the second round of the famous Palio di Siena – the world's oldest horse race, which I told you about in a previous post – is held in August, and it attracts a lot of people. Drowned in the hordes of tourists who were flocking to attend one of the trial races, my friends were barely able to get a glimpse of the magnificent cathedral and Piazza del Campo. Disheartened, they decided to head back to the villa and spend the rest of the day at its beautiful pool – which, as a consolation prize, they had all to themselves, of course.
So, to fully enjoy Siena, a gem of a town, here are a few recommendations:
During the high season, from May to October, I suggest you go to Siena early in the morning or late in the afternoon, when the city, bathing in a beautiful light, is never unbearably hot.
Keep in mind, when planning your holiday, that the Palio is held twice a year on July 2 and August 16. The week before the event is always very busy because of the popular trial races taking place then. If you're not interested in the Palio, visit Siena during another time of the year.
To stay away from the crowded areas during the peak periods, consider exploring Siena's lesser-known but equally charming neighbourhoods, and having lunch there – you'll find a few restaurant tips here.
Finally, I also strongly recommend guided tours. Siena boasts a unique cultural and historical heritage, and has a large network of professional guides. Personally I have had wonderful experiences discovering the city with their help. One of my favourites: the tours about the Palio di Siena, which include visits to local museums all year round (and not just during the horse races in July and August). With a VIP tour, you can also gain access to some of Siena's most beautiful, privately owned buildings.
Guided tours normally last two or three hours, and cost from 170€. Do no hesitate to get in touch with Katja should you like to have some personal advice or further details.
Siena will not disappoint you!