Venice, an Endangered Species?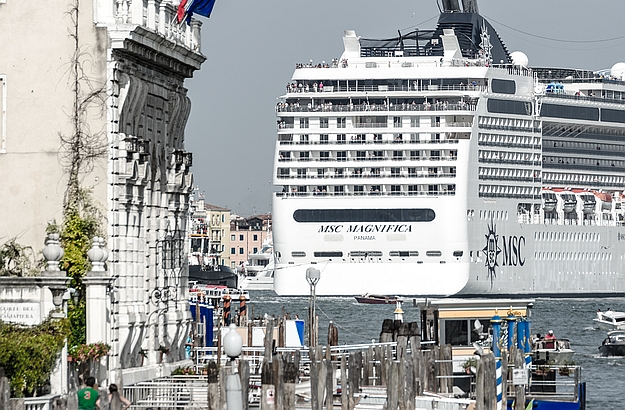 I was introduced to Jane da Mosto a few months ago at a social and arts event in Venice. Holder of a zoology degree from the University of Oxford as well as a Masters degree from the Imperial College London, Jane is an environmental scientist and an experienced consultant on sustainable development and climate change.
Jane and I hit it off right away when we met, and over a glass of wine we confabulated at length about Jane's professional background and her steadfast commitment to the Serenissima's exceptional heritage and environment.
After her studies, Jane worked in London in management consultancy and venture capital, then joined the environmental economics group at the Eni Enrico Mattei Foundation in Milan. In 1995, she moved to Venice and got involved in a number of endeavours, conferences and organisations such as managing some European Projects for local NGOs, the International Geosphere-Biosphere Programme, the OECD Territorial Review of Venice, and the United Nations Agenda 21 Programme for Venice, just to name a few.
A major turning point came in 2012 when Jane co-founded We Are Here Venice, an NGO that specialises in using the best available academic research and methodologies to characterise the challenges facing Venice. In a nutshell, We Are Here Venice draws upon a broader range of sources, including grassroots networks, to obtain accurate information on the city and its lagoon, promotes rigorous academic analysis on key questions, and disseminate distilled findings and results to improve public understanding and international awareness of Venice's fragile but not hopeless condition.
A few weeks ago, I asked my good friend and collaborator Katja Meier – who was the star of one of our recent articles – to meet up with Jane and ask her a few questions about her current engagements in Venice:
Katja – Jane, you are an environmental scientist and have lived most of your adult life in Venice. Could you please tell our readers why it is so critical that cruise ships be stopped from passing through Venice's world-famous lagoon?
Jane – The lagoon is a delicate ecosystem – the largest wetland in Italy with some of the richest bird life in the whole Mediterranean, as well as plants that don't grow anywhere else. Besides, the lagoon actually protects Venice. Cruise ships threaten the lagoon's ecosystem, and hence Venice. Not looking after the lagoon would be like killing the goose that lays the golden eggs, or the baby in his or her mother's womb.
Katja – What is currently being done about this?
Jane – The problem has been discussed for many years. Sadly, it took a cruise ship disaster in the winter of 2012 – the Costa Concordia running aground in front of the Giglio Island in Southern Tuscany – for the government to finally address the issue. A law was ratified five years ago that now prohibits cruise ships from passing in front of the Piazza San Marco.
Katja – But they still do, don't they?
Jane – Yes, they do. Because the law stipulates that the ban can only be put into practice once there is a viable alternative for the cruise ships. And this alternative still hasn't been found. One of the solutions which have been considered suggested dredging more canals, which would be terrible for the ecosystem of the lagoon. Better solutions do exist, but the discussions are slow and inconclusive, and in the meantime the cruise ships keep passing!
Katja – Can you envision a marine form of tourism that would not endanger Venice and its lagoon?
Jane – Yes, Venice is a maritime city: it has the most wonderful marine traditions from rowing to sailing. But the ships have to fit Venice, not the other way around, that is making Venice fit the ships! River boats and even luxury yachts work, but those giant floating condominiums never will.
Katja – You have written a report for the Venice in Peril Fund, which has been supporting restoration works in the city since the great floods in Venice and Florence in 1966. You are also the co-founder of an organisation called We Are Here Venice. Could you tell us a bit about the reasons behind this organisation?
Jane – The Venice in Peril Fund has recently decided to focus on the restoration of monuments, which will always be a very important issue. However, there is also urgent need to keep Venice alive as a city. We must get the best available minds to work on the problems that come with mass tourism. This is also a necessity for many other urban areas, but in Venice these problems are magnified because of the way the city has been constructed. We need better knowledge and the involvement of research institutes in order to be able to handle the negative effects of tourism. We Are Here Venice cooperates with Venice's grassroots network of activists. The campaigners need sound and well researched facts and figures to make the exchange with policy makers more fruitful. Since Venice has some of the most intense tourism in the world, it should also be at the forefront of research on how to best manage tourism. Cruise ships are only a part of the problem, but a very visible and emblematic one. We need initiative ticketing systems and forward thinking software engineers to tackle the many issues at hand. Technology companies offering solutions for tourism should have their headquarters in Venice. Where else can you study the outcomes of your approach better than here? Considering that we have sent people to the moon, we should also be able to find ingenious and valid solutions for the many challenges Venice is facing today.
Katja – Compared to other Italian towns, Venice offers a wide array of contemporary art – the Biennale, Palazzo Grassi and Punta della Dogana, to name a few. Italy's historic cities are being advised to invest more into an active cultural life to give the younger generation an incentive not to move away. Would you say this is working in Venice?
Jane – You forgot to mention the Guggenheim Museum which has the highest number of visitors in all of Italy's modern art museums. This is immensely important as it shows Venice as a modern city, one turned towards the future, and not just as an archaic place with a long history. However, this cannot be the only solution. My son is twenty now, and of course I'd like him to live here in our vicinity. But what are his options if he doesn't want to work as a waiter or in a shop? There are not enough opportunities here for young people. Venice has the most wonderful quality of life, but it needs more diversity in its economic setup for young people to be able to stay in the city.
Katja – Apart from not arriving on a cruise ship, what would your advice be for the many travellers who plan to visit Venice but wish to do so in a thoughtful and supportive way?
Jane – When in Rome, do as the Romans do! It's the same for Venice: don't expect pizza everywhere, try the typical Venetian things. Take the time to visit the museums and participate in the many cultural initiatives. And try to come for more than just a day or two: the longer you stay the more you can appreciate Venice and its calm pace of life. And try to wake up early if you can, to revel in the magic of the Venetian light. Dawn in the Serenissima is absolutely breathtaking…
Katja – Many thanks for your time, Jane.
Jane – It's been a pleasure, Katja.
And grazie mille to both of you, Jane and Katja!

Enregistrer