Lucca – One of Italy's Great Antique Markets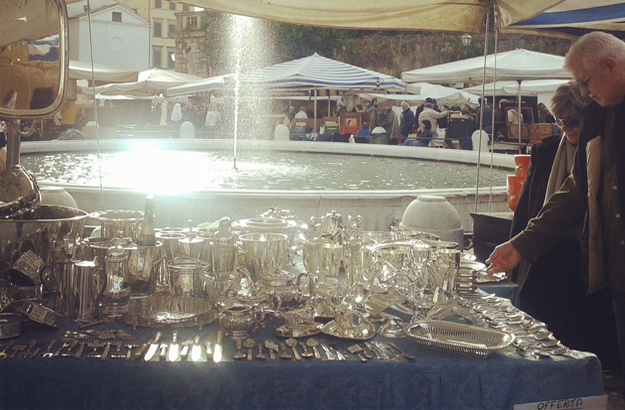 Last week, I was tidying up a cupboard in my Parisian flat – it needed it badly – when I stumbled upon a small ceramic vase I had bought at Lucca's antique market a few years ago.
You may remember that I told you once, in a previous article, about Arezzo's antique market. But the charming town of Lucca, nestled in the north-west of Tuscany, is home to one of Italy's nicest antique markets. Depending on the time of the yyear, it can be small or take over Lucca's two largest piazzas and almost all the streets and alleys in between.
There are many stalls and exhibitors at Lucca's market, and it bursts with antiques of every possible kind and for every conceivable taste. Thousands and thousands of items are on display. During my visit, I came across beautiful jewellery, armchairs, bedside tables, paintings, mortars made with Carrara marble, World War I memorabilia, old refrigerators from the fifties, 19th century linens, vintage postcards and olive picker's crates filled with Tuscany's beautiful vintage tiles.
I would have loved to buy many of those wares – probably not the old refrigerator though, – but alas, I had to catch a flight which I was supposed to board with hand luggage only. So, unable to join the shopping frenzy, I resigned myself to taking a seat in front of the lovingly restored bar called Aria just opposite the cathedral, and watching the market's vendors, customers and collectors mingle, haggle and strike deals.
By the way, make sure to have a look at Lucca's beautiful cathedral – and have a euro in your pocket, because Tintoretto's Last Supper in the right nave of the church can only be admired after paying for the spotlight focused on it.
In addition to its famous market, Lucca is renowned for its wide grass- and tree-topped city walls, originally built by the Romans and refurbished during the Renaissance. These walls are actually so wide that a walking and biking pathway has been built on top of them all around the city!
Lucca's market is held each month on the weekend that has the third Sunday of the month. It is held on both Saturday and Sunday, but the Saturday not being necessarily the third Saturday of the month, it is the Sunday that counts, not the Saturday. Gee, I'm getting all confused here! But I'm confident that you will figure it out…